During the last week of December, Meridian residents (serviced by Republic Services) can place acceptable items out for free pick up. Items are picked up on your normal trash service day.*
Extra Trash Week dates: December 26 - 30, 2022
Please follow the guidelines below. 
Bulky Items:
Bulky items are items too large to fit inside your trash cart, such as chairs and large appliances.
All bulky items and Freon™ appliances must be scheduled by 5 p.m. the day before your regular scheduled service day.
All items except Freon™ appliances (e.g., refrigerators, A/C units) are free.

Examples: tables, chairs, couches, fake Christmas trees, mattresses, water heaters, or washing machines. 

Limit of seven (7) bulky items. 
Freon™ appliances (e.g., refrigerators, A/C units) cost $64.05 per unit to collect.
Schedule pickups by calling Republic Services at (208) 345-1265.
For real Christmas tree disposal, please see the Tree Recycling» page.
Please set your bulky items 3 feet away from your cart(s) and other objects.

NO

Tires
* Bulky items are collected by a separate truck, which may come at a different time than your regular trash and recycling trucks.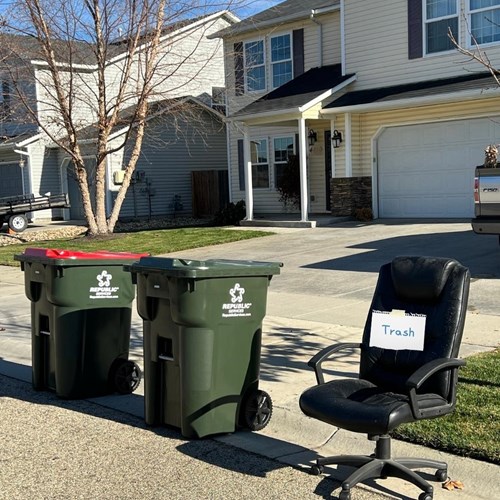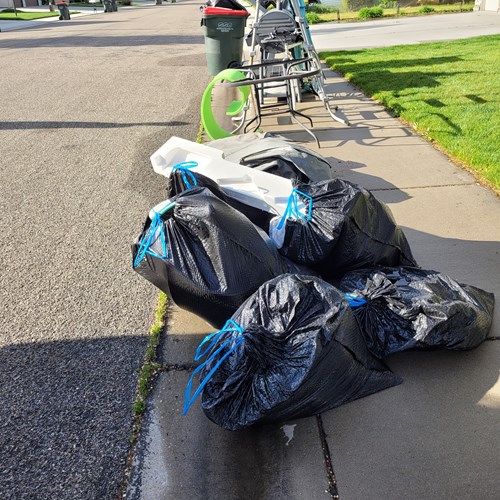 Smaller Items:
Small extra trash items include extra trash bags or small tied bundles outside of your trash cart.
No small loose items will be accepted. All items must be contained within a tightly closed plastic bag, bundled and tied together, or placed in a personal trash container (containers will not be taken away).
Limit of ten (10) smaller items.
Plastic bag weight limit is 30 pounds.
Trash bundle weight limit is 30 pounds and no longer than 4 feet.
Personal container weight limit is 60 pounds and smaller than 32 gallons.

NO

 sharp objects, such as broken glass, syringes, or liquids.

NO

button, lithium, or rechargeable batteries (they can cause fires and hurt drivers).

NO

hazardous waste (e.g., CFL lights, T8 tube lights).
Cardboard:
Residents can bring large amounts of flattened cardboard to the Meridian Transfer Station (2130 W Franklin Rd., Meridian) for free.
Please remember to remove plastic bags and Styrofoam™.