The Hefty® EnergyBag® program provides participating residents a way to collect hard-to-recycle plastics that are not accepted within the curbside recycle cart or at the Meridian Transfer Station. The orange EnergyBag® serves as a way to divert a variety of plastics from the landfill. There is no monthly cost to use this program.
To participate, please follow the steps below:
Please purchase the EnergyBag® at participating grocery stores. Visit the Hefty® EnergyBag® website » for a full list of local retailers.
Acceptable Items:
For a PDF printable version of what is accepted, please download here ».
Remember, items must be clean, dry, and free of any foil lining.
Below is a helpful video by City of Meridian Staff outlining which plastics are accepted.
Once the orange Hefty® EnergyBag® is full, securely tie it and place it inside your curbside recycle cart.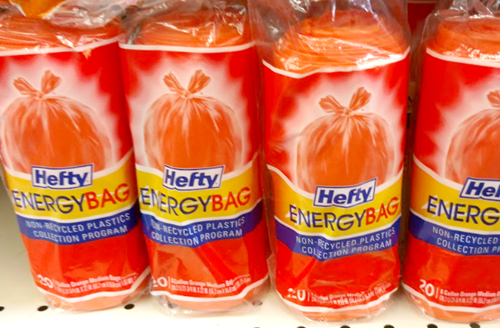 What happens next to the orange bags:
• Republic Services' drivers will haul your orange bags along with regular curbside recyclables to the recycling processing facility, Western Recycling. There, the bags are separated from the curbside recyclables and transported to cement manufacturing facilities that utilize the plastic for an energy resource that replaces some of the coal that fuels their kilns.
• For the latest news and program updates, visit the Hefty® EnergyBag® website ».