Thank you for your desire to make Meridian a great place to live, work and play!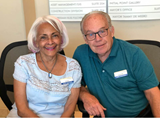 Front Desk Volunteer
Greet & direct citizens at Meridian City Hall
Answer general questions regarding Meridian
Available shifts:
Wednesdays from 12 - 2 pm
Fridays from 8 - 10 am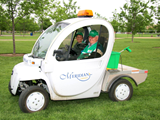 Park Ambassador
Patrol Meridian parks by answering questions citizens may have
Notify Park staff if any facilities needs attention
Trash pick up & complete small projects for parks
Currently Recruiting for Kleiner & Settlers Parks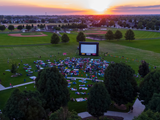 Sparklight Movie Nights
Every other Friday night starting June 2nd
June 2, 16, 30, July 14, 28, & August 11
Volunteers needed for clean up & tear down from 8:30 pm until end of night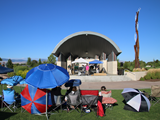 Bri Kleiner Park Live
Every other Friday night starting on June 9th
June 9, 23, July 7, 21, August 4 & 18
Volunteers needed for general concert help & clean up from 6 - 9 pm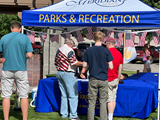 Independence Day Celebration
Tuesday, July 4th at Storey Park
Volunteers needed for set up, information desk, & tear down
1st Shift from 4 - 6 pm
2nd Shift from 6 - 8 pm
Tear Down begins at 9:30 pm
Future Volunteer Opportunities
Save the dates for these volunteer opportunities later on in the year. More details to come!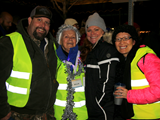 Christmas in Meridian: Winterlights Parade
Friday, December 1, 2023
Downtown Meridian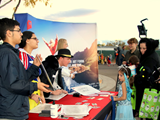 Trunk or Treat
Thursday, October 26, 2023
Downtown Meridian
For more information, contact Jaime Del Barrio at 208-489-0562 or fill out the volunteer application above.
Volunteer Spotlight - Idaho Fine Arts Academy
On Friday, May 5th, students and faculty from Idaho Fine Arts Academy put in over 40 hours of volunteer work in our local parks! The students spread bark in the playground areas of both Reta Huskey and Keith Bird parks. Thank you so much for your service to your community Idaho Fine Arts Academy!
Girl Scout Gold Award & Eagle Scout Merit Badge Project Guidelines
---
The Meridian Parks and Recreation Department is a proud supporter of Girl and Boy Scouts who wish to complete Gold Award and Eagle Scout Award projects within Meridian's city parks.
We are able to partner with only a few of the many scouts who apply each season. Your project proposal is most likely to be accepted when:
The project will have a lasting legacy in our city.
The project is not too simple or too complex- it meets the Scouting organization's requirements and can be completed with limited parental or adult involvement.
The project proposal includes detailed information about project materials and expenses.
The scout communicates professionally (in phone calls, meetings, emails, etc.) with the city coordinator.
The project proposal is submitted well in advance.
Staff Appointed Projects - There are no Staff Appointed Projects available at this time. Please submit your original proposal here ».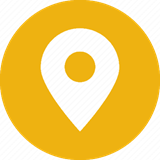 Location
33. E. Broadway Ave.
Meridian, Idaho 83642