Recycle the Fall is a free annual leaf collection event in Meridian. Every fall, the City works with Republic Services to offer Meridian residents the opportunity to either place bags of leaves out for pick-up service or drop leaves off at participating locations. Keep reading for guidelines, drop-off locations, and information on Rake Up Meridian.
Other Drop Site Locations
Meridian Transfer Station (2130 W. Franklin Rd.), open Mon. – Sat., 8 a.m. – 5 p.m.
Accepting leaves Tuesday, October 18th to Thursday, December 15th.
Ada County Landfill (10300 N Seamans Gulch Rd.), open Mon - Fri, 7 a.m. - 6 p.m. and Sat, 8 a.m. - 6 p.m.
Accepting leaves Monday, October 10th to Saturday, December 17th.
Curbside Collection is from October 31st to November 26th
Guidelines:
Leaves only (NO branches, pumpkins, garden plants)
Limit of 10 leaf bags per week
Place leaves in your grass recycling cart or in paper leaf bags (please do not tape bags)
Set leaf bags and grass carts out on your regular trash service day
Please have all your items at the curb by 6 am
Please note that leaves are collected by a separate truck, which may come at a different time than your regular trash pickup.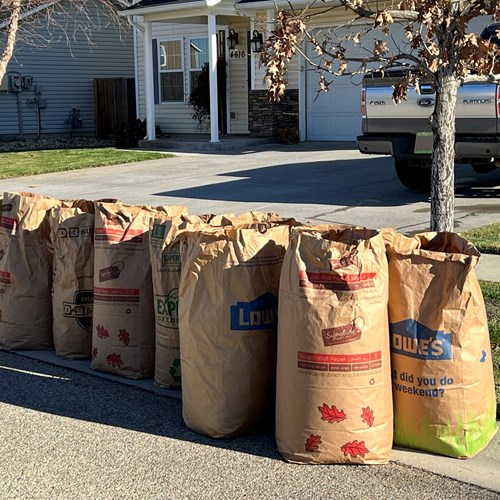 Rake Up Meridian
Each year, the City's Park and Recreation Department partners with Republic Services to connect residents in need of help raking their leaves with volunteers. For more information, please visit Parks and Recreation's webpage at meridiancity.org/environmental/rakeup